Evolution of Dispute Resolution Contractual Provisions in Standard Forms For Construction and Engineering Contracts (27 March 2019)
Contact
SCL Secretariat,
This email address is being protected from spambots. You need JavaScript enabled to view it.
Mediation, international arbitration and adjudication are all relatively recent entrants in the history of dispute resolution for construction and engineering contracts. Their evolution (and that of other dispute resolution methods) to become an everyday part of construction and engineering practice is a consequence of a world obsessed with speed and efficiency.
This talk will address the factors behind this evolution, the current cycles of change within dispute resolution methods in construction and engineering contracts and a view of the future of dispute resolution in the construction world
Seminar Programme:
5.00 - 5.30pm

Registrations & Networking for Delegates

5.30 - 5.45pm

Opening Remarks by Chairperson:

Mr Lee Chau Ee – Partner, King & Wood Mallesons; Vice-Chairman, Society of Construction Law (Singapore)

5.45 - 7.00pm

Evolution of Dispute Resolution Contractual Provisions in Standard Forms For Construction and Engineering Contracts

Mr Alex Wong – Partner, Hogan Lovells Lee & Lee, Singapore; Immediate Past Chairman, Society of Construction Law (Singapore)
Mr Kent Phillips – Partner, Hogan Lovells Lee & Lee, Singapore

7.00 - 7.15pm

Q&A Session
About the Speakers:
Mr Alex Wong – Partner, Hogan Lovells Lee & Lee, Singapore; Immediate Past Chairman, Society of Construction Law (Singapore)
Based out of our Singapore office, Alex Wong brings close to two decades worth of experience in the energy and infrastructure space in Singapore and around Asia. Being both Singapore and English law qualified, Alex has extensive experience advising sponsors, lenders, multilateral agencies, and governments on energy, utilities, and infrastructure projects.
Alex is the immediate past Chairman of the Society of Construction Law (Singapore) and has been appointed as Senior Accredited Specialist for Construction by the Singapore Academy of Law – the only transactional lawyer appointed.
He has authored a number of articles and publications including a chapter in a book endorsed by the Institute of Water Policy at the Lee Kuan Yew School of Public Policy in Singapore titled "Water Governance: An Evaluation of Alternative Architectures" and a chapter (focusing on project financing) in the 5th Edition of the Law & Practice of Construction Contracts, Chow Kok Fong 2018.
Mr Kent Phillips – Partner, Hogan Lovells Lee & Lee, Singapore
Kent Phillips has over 20 years experience as a dispute resolution lawyer, concentrating on international arbitration in both London and Singapore. He has conducted arbitrations under leading institutional rules in most major seats, under both civil and common applicable laws.
Kent's extensive trial experience includes high-value commercial disputes across a number of sectors and jurisdictions. His time in London was spent leading disputes between high-profile Russian oligarchs, with merits hearing of claims involving some US$3 billion. Now based in Singapore, he is routinely involved in disputes relating to services and infrastructure in the resources, energy, and oil & gas sectors. These include construction and commodities matters and often involve Southeast Asia or India.
Kent conducts all stages of proceedings, from interim measures to advocacy at trial and holds full registration as a foreign lawyer to appear before the Singapore International Commercial Court.
For many years Kent has been recognised by major directories as a leading individual for International Arbitration. He regularly sits as an arbitrator and is on the SIAC panel, he is also a director of the Chartered Institute of Arbitrators – Singapore branch
About the Chairperson:
Mr Lee Chau Ee – Partner, King & Wood Mallesons ; Vice-Chairman, Society of Construction Law (Singapore)
Chau Ee has a 'cradle-to-grave' construction and engineering practice advising clients from conception, inception to completion of a project life-cycle. His spread of knowledge, experience and expertise is across construction sectors including energy, infrastructure, water and waste-water, and offshore and marine, having worked on these projects throughout Asia, the Middle East and the UK.
For the majority of his career, he worked in UK and US law firms, initially in Singapore, and thereafter in London and Dubai, before returning to Singapore in 2014. Chau Ee has been consistently ranked as a leading lawyer and expert in Construction in leading international legal directories such as Who's Who Legal in Construction, Euromoney's Guide to World's Leading Experts in Construction, Legal 500 Europe Middle East Africa and Asia Pacific and Chambers Global, and Chambers Asia Pacific.
Besides a law degree, Chau Ee also possesses an MSc in Construction Management (Project Management).
Registration Fee:
REGISTRATION CLOSING DATE: 20March 2019

FEES (includes refreshments & materials, if any)

SCL (Singapore) Members

S$35.00

Guests of SCL(S) Members, Members of international SCLs,
Members of:Chartered Institute of Arbitrators (Singapore) Ltd (CIArb), Chartered Institute of Building (CIOB), Lighthouse Club (Singapore) (Lighthouse), Royal Institution of Chartered Surveyors (RICS), Singapore Contractors Association Ltd (SCAL), Singapore Institute of Architects (SIA), Singapore Institute of Arbitrators (SIArb), Singapore Institute of Building Ltd (SIBL), Singapore Institute of Surveyors and Valuers (SISV), Society of Project Managers (SPM), Tunneling and Underground Construction Society (Singapore) (TUCSS), Full Time Students & Faculty of NUS Faculty of Law,
Marine Offshore Oil & Gas Association (MOOGAS)

S$70.00

Others

S$90.00
Download Brochure HERE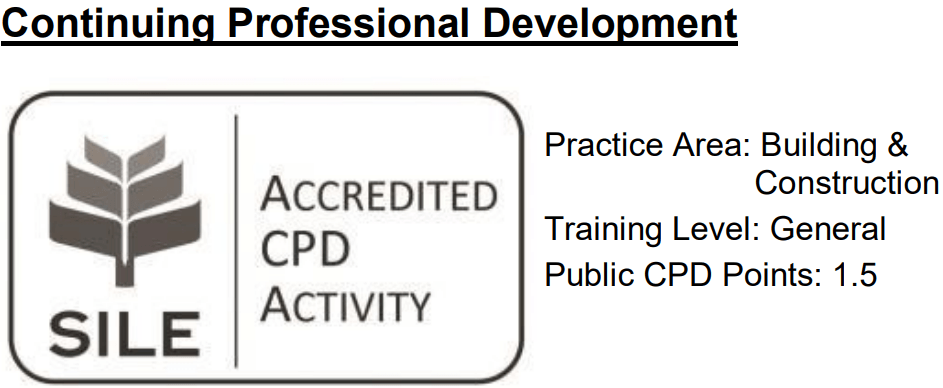 Location
Room 903, Level 9 NTUC Centre, One Marina Boulevard, Singapore 018989
"SCL (Singapore) is an Accredited Institution under the SILE CPD scheme."
For more information on Attendance Policy, please visit www.silecpdcentre.sg.

Registrations are now closed